How to Prepare Your Car for Long Trips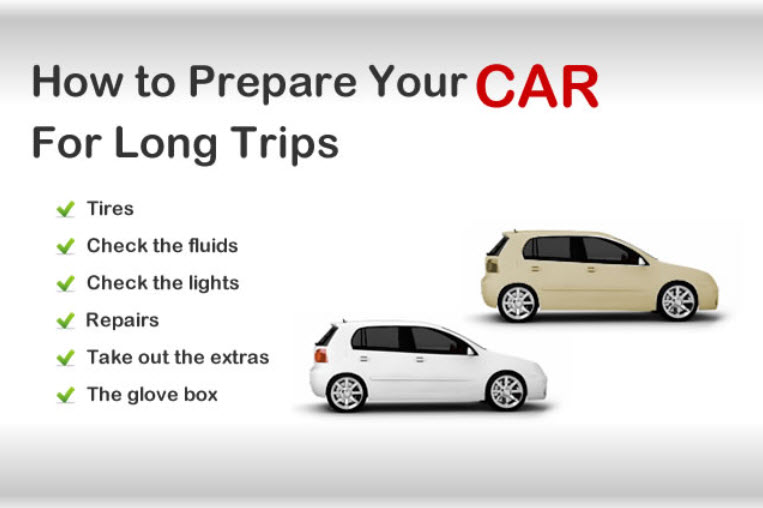 Whether you're planning to go on a long vacation in your car or you need to go out for any official purpose which includes a long road trip, a car breakdown would be the last thing you would want to happen. In fact, a breakdown can ruin your entire trip. A few major and minor checks before leaving will ensure you have a smooth journey and reach the destination on time. Let's see what all you need to check:
Tires
If your car is old and hasn't got any tire changes, make sure you get them changed with new ones or with ones which are not that much worn out. Tires have a running life, after which they need to be replaced. Check tire pressure, because low pressure causes an extra heat buildup and may result into a blow out at high speeds.
Also, always keep spare tires along with the necessary tools in the trunk. They always come handy in case of a tire burst or puncture.
Check the fluids
Get all the fluids of your car checked and are full. Don't hesitate to get an oil change. No oil or bad oil has an impact on the engine and if you're going on a long road trip, it's important to check the oil levels.
 Also, check whether you have adequate coolant in your car. If you're going to a hot place then you'll have a different coolant and if you're going to a colder place, your car's coolant would have a mixture of antifreeze liquid and water.
Check the lights
Check all the lights in your car. The lights are very important when you're driving on highways especially at nights. If you have a broken tail light or brake light, fix them, they only cost a few bucks. These lights are very important while changing lanes and or when showing turning signals, so make sure they are working properly.
Repairs
If you have repairs and maintenance due then this is the right time to do it. Getting a maintenance check will give you time to figure out the problems with your car which you can then later fix by repairing.
Take out the extras
Take the stuff you want according to the needs, don't load up your car with extra stuff which you won't need in the trip. The more stuff you'll be having in the car, the more fuel you'll burn. So always remember to take necessary things and do away with the unwanted or extra stuff.
The glovebox
Don't forget to put all the necessary documents like the owner's manual, registration, insurance and license, flashlight, road maps and a list of emergency contact numbers in the glovebox. Also, ensure that the paperwork is in order and nothing is expiring while you're on the trip.
This entry was posted in: Car Maintenance
Tagged: car maintenance tips
---
---